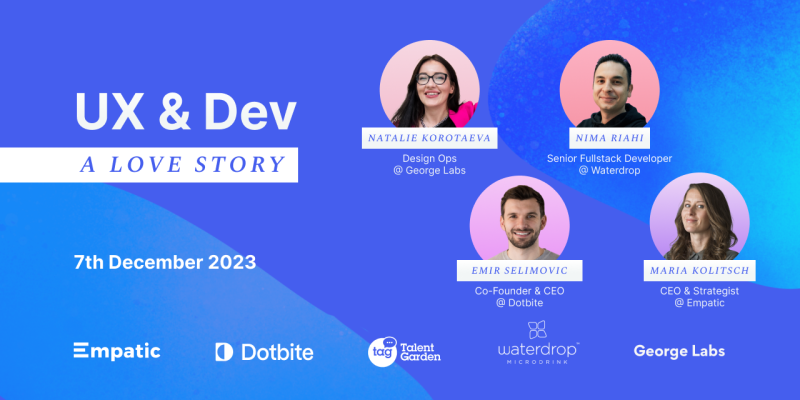 Empatic and Dotbite invite you to join us for a free community event exploring the dynamic between User Experience and Development – "UX & Dev: A Love Story." Discover and discuss how the creative vision of UX intertwines with the technical prowess of developers, and how these complimentary components come together in successful product creation.
Keynotes
Our two expert – Natalie Korotaeva, Design Ops at George Labs, and Nima Riahi, Senior Frontend Developer at Waterdrop – will share their real-world experiences, challenges, and triumphs, highlighting the synergy between design and development that results in seamless, intuitive user interfaces and exceptional digital experiences.
Pizza, Drinks and Networking with Peers
We will follow these presentations with a panel discussion, prize drawing* and networking, so whether you're a seasoned UX designer, a skilled developer, or simply intrigued by the collaborative process behind digital innovation, we promise an inspirational evening. We will organize delicious Pizza and great Drinks so you can enjoy your networking perfectly.
Join us for an event that celebrates the fusion of creativity and technical expertise at the heart of every successful digital products.
* 2 lucky attendees will win a free spot in "A Human-Centric Approach Towards Organizational Resilience" Workshop in February 2023. This full-day workshop will look at how to apply UX & Design Thinking Principles for User-Centric Organizational Change to execute resilient products and business – along with practical examples and techniques – to drive innovation and improve any organizations UX maturity.
By signing up to this event, registrants agree to allow Empatic and Dotbite to contact them regarding the event. The data that is collected will may also be used for post-event follow-up communications, such as new event announcements, and newsletter updates.