Monkee
From idea to app store.
Rapid product development.
A design sprint for Financial Technology
A design sprint is an ultra-fast way of developing a new product. Working with the Monkee team, we researched user needs and ideas, filtered them through the design sprint framework, built a prototype for a new kind of finance app, and validated it—all in one week! Since then, the startup has successfully secured funding, achieved the #1 spot in the ranking of finance apps, and experienced exponential user growth.
Background

Monkee's mission is to help people live a financially healthier lifestyle. The startup believes (and studies also show) that financial health is just as important as mental and physical health for our overall well-being. The app combines behavioral design, gamification, and machine learning to help Monkee achieve their goal.

Challenge

Anyone can throw money into a piggy bank or put money aside in their banking app. But it can be hard to find the motivation to follow through and actually save enough for a new bike or your next vacation. That's where Monkee comes in. The design sprint for the app had one clear goal: Can we develop a product that motivates people to slow down their consumption and save their money instead?
Process
Together with Monkee's founders, we aimed to massively speed up the app development process and reach market readiness as quickly as possible. The week-long workshop, in which people also participated remotely, began with some detailed user and use case exploration. Using target group interviews, we identified potential users' pain points, wishes, and needs of potential users and carefully organized them into a user journey map. Based on this in-depth information, we then developed prototypes that were tested with real users using rapid prototyping, before creating a validated MVP.
Outcome
Months of development in just one week. Following on from the design sprint, the startup team developed and released Monkee FinanzCoach. The app, which is available in all good app stores, is fully aligned with the validated concept and very closely based on the prototype. The design sprint not only helped the Monkee team to complete their challenge statement but also had a long-term effect on the way the team works. Having realized how quickly new features can be developed, tested, and validated, the team went on to create further features for the app using the exact same methods. Today, Monkee is a successful startup with tens of thousands of satisfied users.
Apple App Store - Finance Category

euros in savings goals managed with the app

Digital Top50 - Bits&Pretzels

Retail Innovation Awards 2020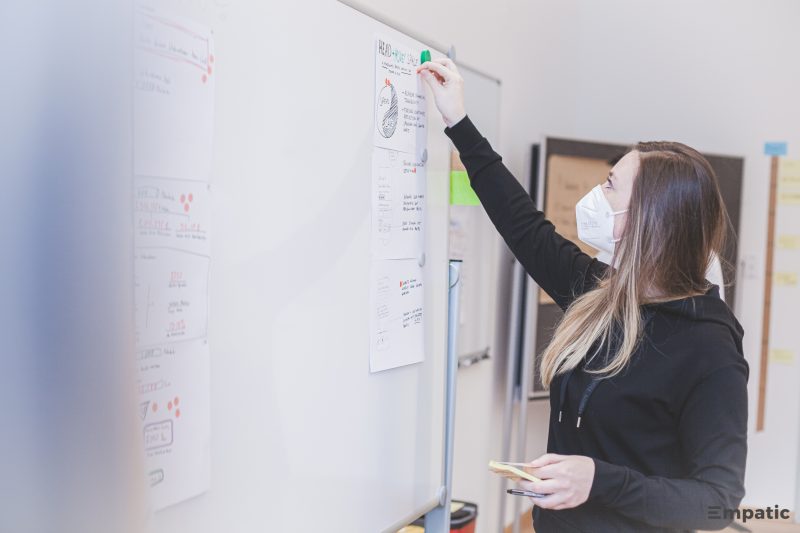 Art Direction

Critical Assumptions Mapping

Design Sprint

How Might We Questions

Minimum Viable Product

Rapid Prototyping

Storyboarding

Target group interviews

User Journey Mapping

User Test
"This sprint was the spark for us to actually implement Monkee."
Martin Granig, CEO & Founder, Monkee