UX/UI Design
that solves your
problems & grows
We help people and organizations evaluate ideas, or existing products, using real data, coordinating the design process, and bringing successful products to market for their target audience.
User Experience (UX) Design
We determine the "sweet spot" of UX, which lies in the area of tension between economic goals, user needs and technical limitations.
We use UX research methods and stakeholder management to determine requirements. We conceptualize and design interaction concepts in the form of interactive prototypes and ensure ideal usability for your users.

Interface (UI) Design
An essential area of user experience is the UI design. We design user interfaces that are user-friendly, appealing, attractive, and easy to use. Our goal is to ensure your brand, message, and services speak on all touchpoints.

Design Systems
By developing a design system, we enable your product range to scale sustainably. This involves setting up reusable components with clear rules, principles, and constraints for design development, and spreading them throughout the company. This saves time, resources and leads to a seamless, holistic user experience.

UX/UI Audit
The goal of the UX audit is to check the status quo in order to successfully develop a product further, and to align it even better with the needs of your users. Our experts identify weak points in the usability of your (digital) products, and analyze the user interface and interactions to take your product to the next level.
Partners & Friends
Successful
Design
Together.
Our Process
Non-binding Initial Consultation
Every product is different – so is the starting point. In a personal conversation, we find out where your product design stands, and what the home stretch looks like.
Goal: Armed with the right information, we can tailor a project process to your individual needs.
---
Research Phase
Depending on the product, we merge and leverage existing data, collect new data points using appropriate research methods, and identify critical success factors for product design.
Goal: Prevent unnecessary iterations, and ensure target group-oriented product design.
---
Product Design
Equipped with these insights, we develop a concept and prototypes, using co-creation, moderating in-house design sprints, developing the design system for your product, and coordinating the implementation.
Goal: Product design, 100% tailored to your organization and target group.
Frequently Asked Questions
Our team of diverse design experts is here to take your concept – whether it is just a sketch on paper or a fully developed idea – and turn it into a functional, market-ready product. We start by working closely with you to understand your vision and goals. Then we dive into the details, creating detailed designs, building prototypes, and testing them thoroughly to ensure they meet both your specifications and user expectations.
Finally, we work with engineers, manufacturers, and other experts to make sure your product not only looks great, but works seamlessly. In short, we're your partners in getting your product from the drawing board to store shelves, combining creativity with practicality every step of the way.
There are two types of projects: a pre-existing product is changed or extended, or a customer has an idea and a new product or service needs to be created. This can start with just a problem statement, a sketch on paper, or even a business plan.
We work with companies of all shapes and sizes. For large, multinational companies, we have worked with individual teams on a single product or line, as well as with the entire organization on larger trainings and digital transformation projects. We also frequently work with startups and smaller companies, where our external expertise and human-centered processes help refine business cases and ensure products truly meet user needs.
While we tailor each project to our client's needs, the best projects involve close collaboration between our team and yours.
Our best projects are built on deep collaboration and, ultimately, trust. We work with our partners in open, creative spaces where no solution is out of the question until we have tested it with users or other UX metrics.
Our goal is to provide our clients with effective and actionable solutions. Therefore, all projects end only when we have found a clear path or solution that we have derived from the process of human-centered design.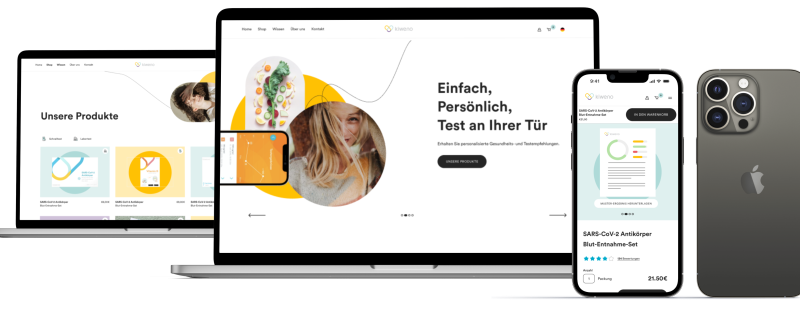 Industries in which we are active and designing

Minutes of interviews we have conducted

Monthly users (MAU) of our co-created products

Phone call where we can tell you more about these projects!